25 April 2022
Bianchi shows off the e-Omnia range's new colors at the Bike Festival Riva del Garda
---
All of Bianchi's new product developments, starting with the brand-new colors of the e-Omnia C-Type and T-Type, will be center stage at the Bike Festival in Riva del Garda from April 29th to May 1st. What's more, it will be possible to test the e-Urban and e-Tourer models of the e-Omnia and T-Tronik ranges at the Garda Bike Shop
It's the springtime's most celebrated trade show for two-wheels, and it's the ultimate destination for mountain bike and e-bike lovers in Europe. The Bike Festival Riva del Garda is back on its usual spring dates, from April 29th to May 1st, and the Bianchi Experience Center, Bianchi's experiential demo vehicle, is ready to set off for Lake Garda's Trentino shores.
As usual, it will be three days of fun and discovery. Bianchi has completely redesigned its expo area, where enthusiasts will be able to see and touch the latest products, starting with the revitalized colors of the T-Type and C-Type models of e-Omnia, the high-performance e-bike platform suitable for every kind of rider. Completing the e-Omnia range on display is the FX-Type full-suspension, the e-MTB designed to satisfy every biker's need for adrenaline.
Representing the Lif-E family, Bianchi's Electric Intelligence Program, the new T-Tronik C-Type and T-Type will also be present, as will the Bianchi Reparto Corse's top models: the Oltre XR4 and the Specialissima, and the latest gravel bikes, like the Impulso Pro and Arcadex.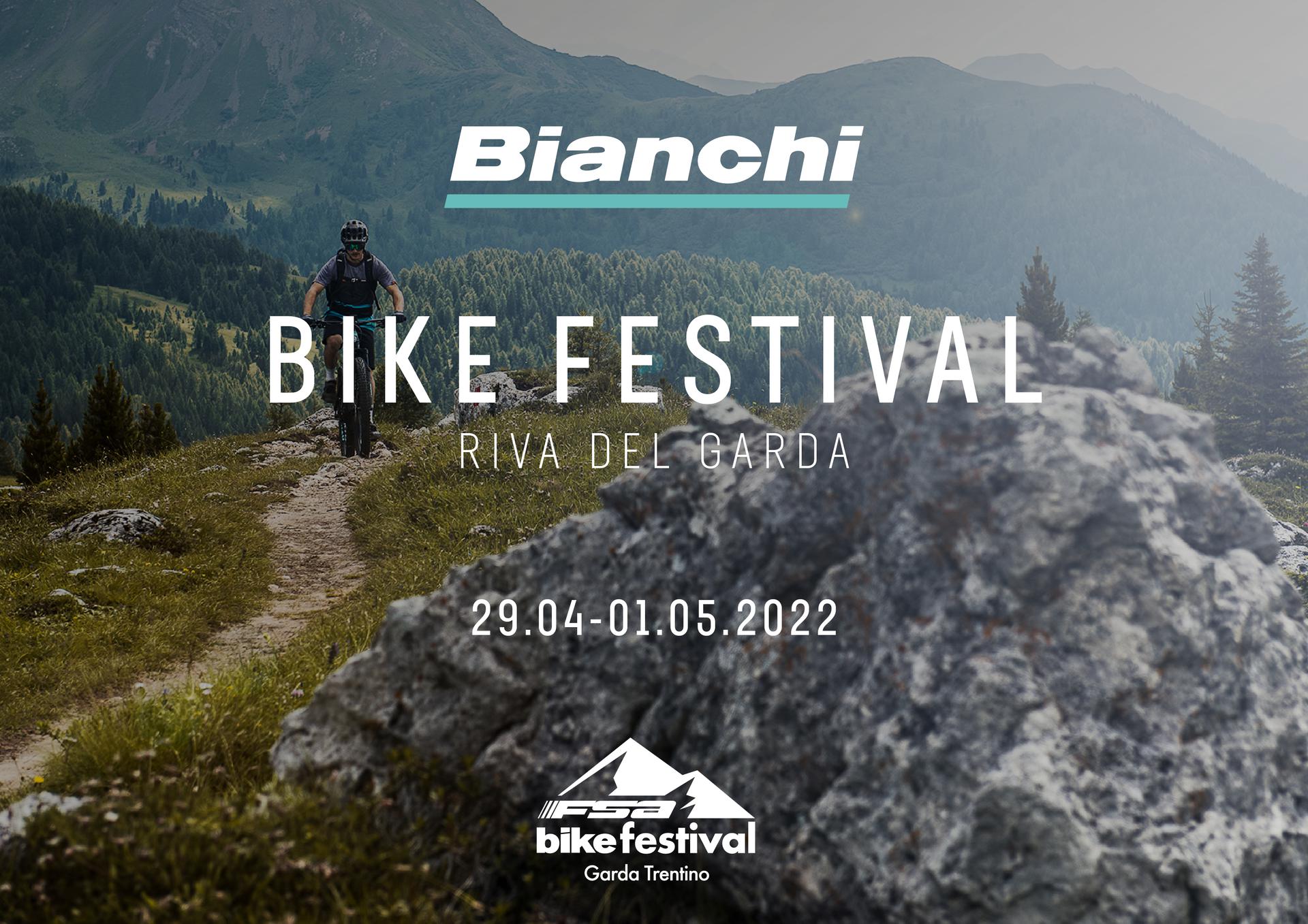 RIDE EXPERIENCE
Throughout the three days of the Bike Festival, Bianchi has arranged for exclusive bike testing in collaboration with Garda Bike Shop to try out the technology and performance of e-Omnia and T-Tronik.
The e-bikes available for testing will be the:
e-Omnia T-Type
e-Omnia C-Type
T-Tronik T-Type
T-Tronik C-Type
Garda Bike Shop is located in Riva del Garda, Viale Rovereto 3/A, right at the entrance of the Bike Festival expo area.
OPENING HOURS
The 2022 edition of the Bike Festival's expo will be open during the following hours:
Friday, April 29, from 10:00 a.m. to 7:00 p.m.
Saturday, April 30, from 10:00 a.m. to 7:00 p.m.
Sunday, May 1, from 10:00 a.m. to 4:00 p.m.
Related News