Find your size
Enter any of these values
Designed for
Oltre RC is Bianchi's first hyperbike, an aero machine created for competition.
Tech specs
Frameset

Rahmen

Oltre RC carbon aero shape, electronic drivetrain only, headset 1.1/4"-1.1/4",BB-PressFit 86,5x41mm, integrated seat clamp, for flat mount caliper, internal cable routing for disc brakes, thru axle 12x142mm sizes 47-50-53-55-57-59cm

Gabel

Full Carbon aero, Disc brakes, integrated head 1.1/4", flat mount caliper, thru axle 12x100mm

Headset

Fsa No. 54 - MR137 - ACB 1-1/4"" diam.46.9xdiam.37x7 Fsa TH970R - MR082R - SL Alloy ACB 1-1/4"" diam.46.8xdiam.34x7

Drivetrain

Schalthebel

Shimano Durace Di2 12sp hydraulic disc

Schaltwerk

Shimano Durace Di2 12sp RD-R9250, DURA-ACE Di2 12sp

Umwerfer

Shimano Durace Di2 12sp FD-R9250, DURA-ACE Di2, brazed-on type, down swing, top gear 46-55T, for rear 12-speed

Kurbelgarnitur

Shimano Durace 12sp FC-R9200-P, DURA-ACE power meter, hollowtech 2, for rear 12- speed, 52x36T, Crank Length: 170mm-47/54cm, 172.5mm-55/59cm

Bottom Bracket

Shimano SM-BB92-41B , press fit

Kette

Shimano Durace 12sp, CN-M9100

Brakes

Bremsen

Shimano Hydraulic disc brake, included in the shifter

Bremsscheibe

Shimano RT-MT900 center lock type w/Ice Tech, 160mm front and rear

Wheels

Laufradsatz

Reparto Corse SPB Tech 50mm front, 65mm rear, weight per set 1520g (+/-5%), ASTM 1, 3K and UD high strength carbon fiber, tubeless ready and clincher, Internal width: 21 mm, rear hub compatible with FW HG / FW XDR / FW N3W, bearings SKF angular contact

Hinterradnabe

Aluminium alloy 7075, width: 100-142 mm, Bearings SKF angular contact, Brake interface: Center Lock

Vorderradnabe

Aluminium alloy 7075, width: 100-142 mm, Bearings SKF angular contact, Brake interface: Center Lock

Reifen

Pirelli Pzero ™ Race SL TLR , 28-622, 120 tpi

Cockpit

Vorbau

Integrated Aero handlebar, material Carbon, drop 125mm, reach 80mm, Di2 compatible Ext: 90x400-47/50cm; 100x420-53cm; 110x420-55/57cm; 120x440-59cm

Lenker

included in the stem

Griffe

Velo Black soft Microfiber tapes+EVA-139 Shockproof 200*3cm

Saddle

Sattelstütze

Oltre Full Carbon Aero special dimension seatpost, 20mm offset, length: 280mm-47cm, 300mm-50/53cm, 350mm-55/59cm

Sattel

Bianchi RC139 Carbon Air, weight 168g, Lenght: 250mm, Wide: 139mm, Rails: 7 x 9,3mm
Based on component availability, Bianchi reserves the right to make changes on specifications without notice.
Geometry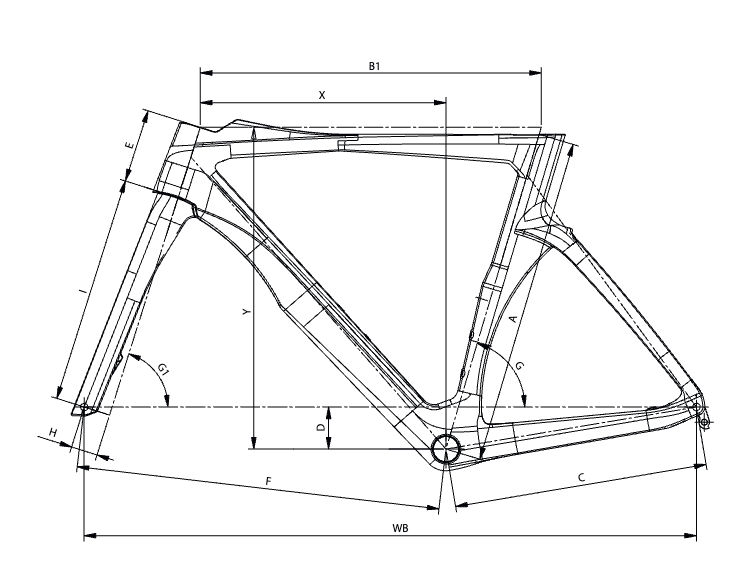 | SIZE | A | B1 | C | D | E | F | G | G1 | H | I | X | Y | WB |
| --- | --- | --- | --- | --- | --- | --- | --- | --- | --- | --- | --- | --- | --- |
| 470 | 450 | 515 | 410 | 58 | 83 | 579 | 74.5° | 70.5° | 43 | 368 | 385 | 470 | 982 |
| 500 | 480 | 525 | 410 | 58 | 88 | 581 | 74.5° | 71.5° | 43 | 368 | 392 | 478 | 983 |
| 530 | 510 | 536 | 410 | 68 | 103 | 582 | 74° | 72° | 43 | 368 | 393 | 504 | 984 |
| 550 | 530 | 550 | 410 | 68 | 118 | 588 | 73.5° | 72.5° | 43 | 368 | 397 | 520 | 988 |
| 570 | 550 | 560 | 412 | 68 | 133 | 593 | 73.5° | 73° | 43 | 368 | 402 | 536 | 996 |
| 590 | 570 | 575 | 412 | 68 | 153 | 603 | 73° | 73° | 43 | 368 | 406 | 555 | 1005 |