Bianchi for Paris-Roubaix
---
Over the many editions of Paris-Roubaix, Bianchi has been there, tirelessly innovating. We seek out the solutions to problems that were once considered unsolvable; how do you build a bike that can take on the challenges of Paris-Roubaix?
Over the editions, these efforts have met with success. Here we present a selection of those innovations that thrived on the pavé, a legacy of success.
While not being projected for racing, the first full-suspension bike in the World was realized by Bianchi in the early 20th century. It was back in 1913, and this was the bike equipped to the Italian rifle regiment.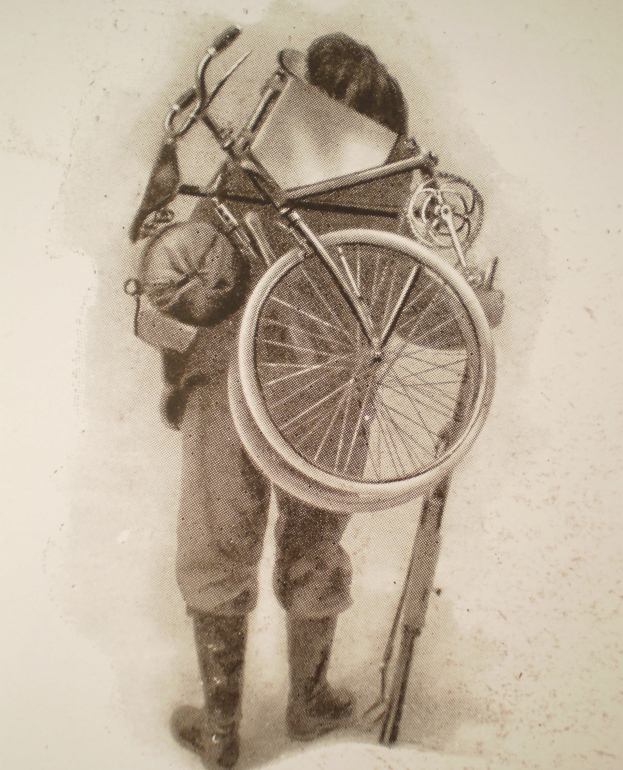 1993
FRANCO BALLERINI
GB-MG MAGLIFICIO
Unforgotten Franco Ballerini tackles Paris-Roubaix with a Bianchi featuring a special suspension stem on a steel frame.
1994
JOHAN MUSEEUW 
GB-MG-TECHNOGYM
Another cobbles' phenom, Belgian Johan Museeuw, brought his assault to the most famous stones in cycling with a special aluminum frame with a rear and front suspension system.
1995-1996
STEFANO ZANINI 
GEWISS-BALLAN
Some athletes from the Gewiss-Ballan team, then Gewiss-Playbus – including the Amstel Gold Race winner Stefano Zanini – raced Paris-Roubaix with a full-suspension Bianchi frame entirely made in titanium.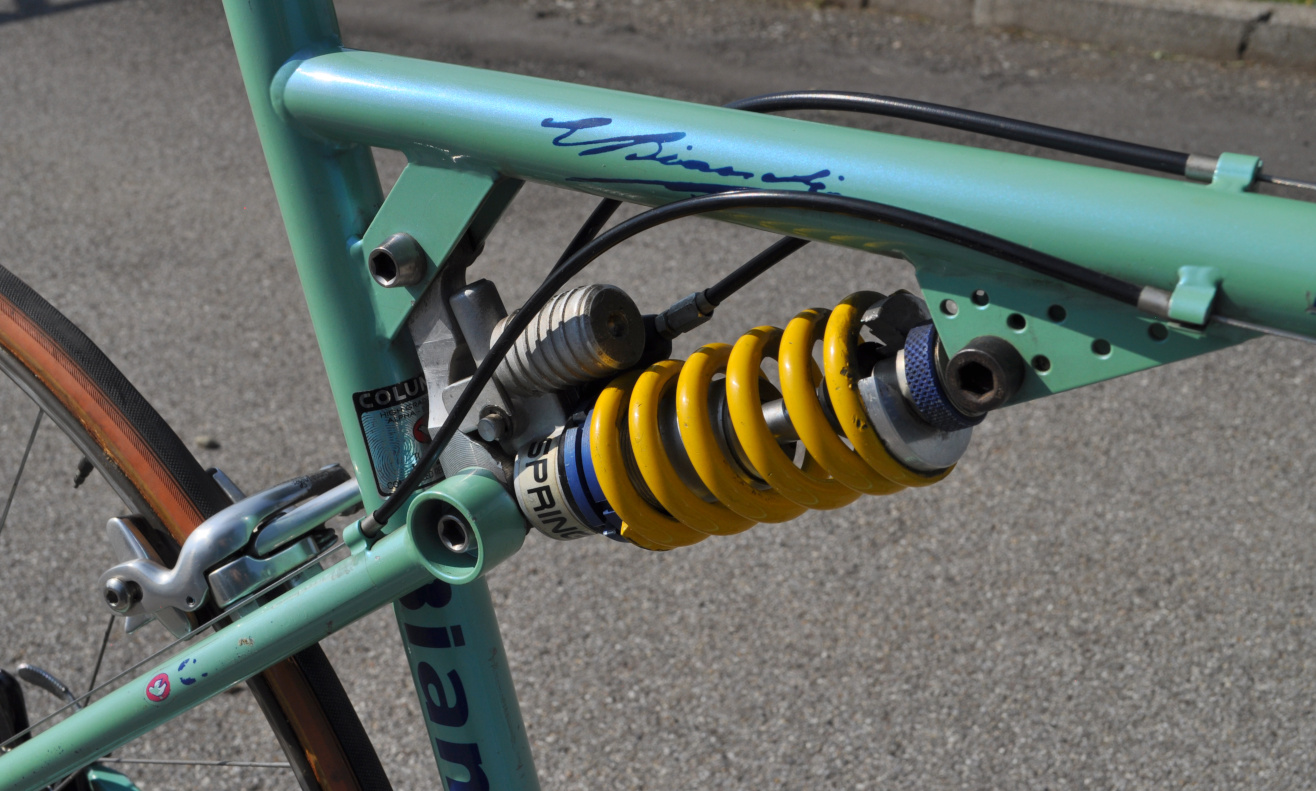 The rear suspension featured a remote lockout placed on the top tube.
2004
MAGNUS BACKSTEDT 
ALESSIO-BIANCHI
Swede Magnus Backstedt wins Paris-Roubaix with a titanium frame, specifically designed for the Hell of the North by Bianchi Reparto Corse. The frame has no shock-absorbers, but its geometry and tubes were specifically realized for this race.
2013
JUAN ANTONIO FLECHA 
VACANSOLEIL-DCM PRO CYCLING
Bianchi launches the first Infinito CV model, introducing the innovative invention that is revolutionizing road cycling: the Countervail viscoelastic carbon material, that cancels up to 80% of the road vibration. The bike was used at Paris-Roubaix by Juan Antonio Flecha.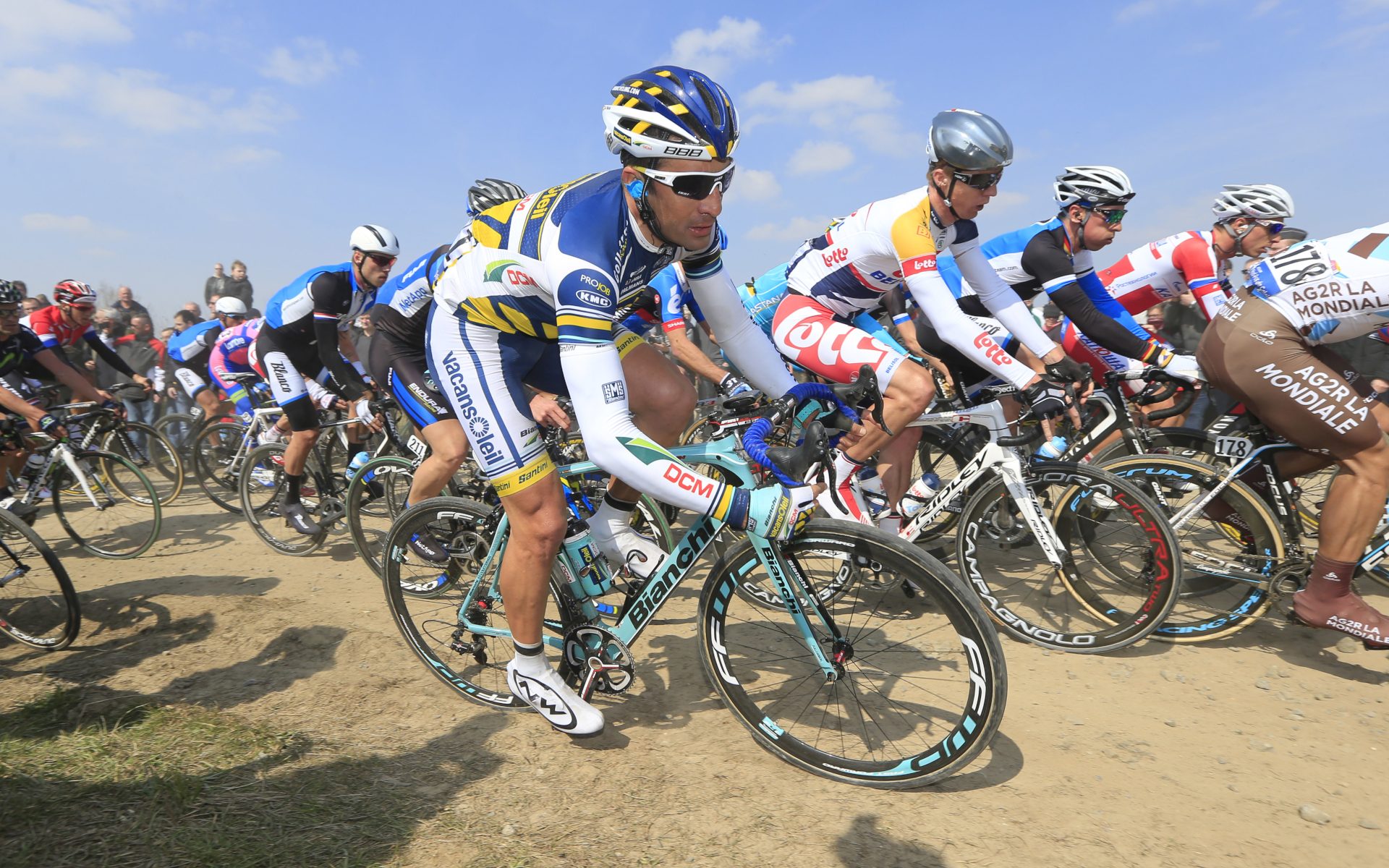 "My best bike ever for the Classics"
2015
SEP VANMARCKE 
TEAM LOTTO.NL-JUMBO
In 2014, after finishing third at Ronde Van Vlaanderen, cobbles specialist Sep Vanmarcke takes fourth at Paris-Roubaix. In the same year, Lars Boom dominates Tour de France stage 5, on the same cobblestones sectors that made Paris-Roubaix' history.
In 2015 the Belgian rode the Queen of the Classic with a customized Infinito CV.
Today
WOUT VAN AERT 
TEAM JUMBO-VISMA
Wout Van Aert and the entire Team Jumbo-Visma are now supported by the re-designed Infinito CV. The frame shape has been developed to be faster and smoother and, like Bianchi's first-generation model, is engineered with the revolutionary Bianchi CV System, using patented Countervail carbon material, to cancel road vibrations.
Advantages: 
Maximized ride control and handling under normal to extreme vibration loads 
Reduced muscle fatigue and increased energy savings in distance rides 
Increased rigidity and peak power output over long distances