Bianchi wins 3W Awards with Giro Reflections
---
The short movie produced by Bianchi Media House during the 2022 Giro d'Italia has been awarded by an international jury in the General Video-Sports category for the project's original idea and vision.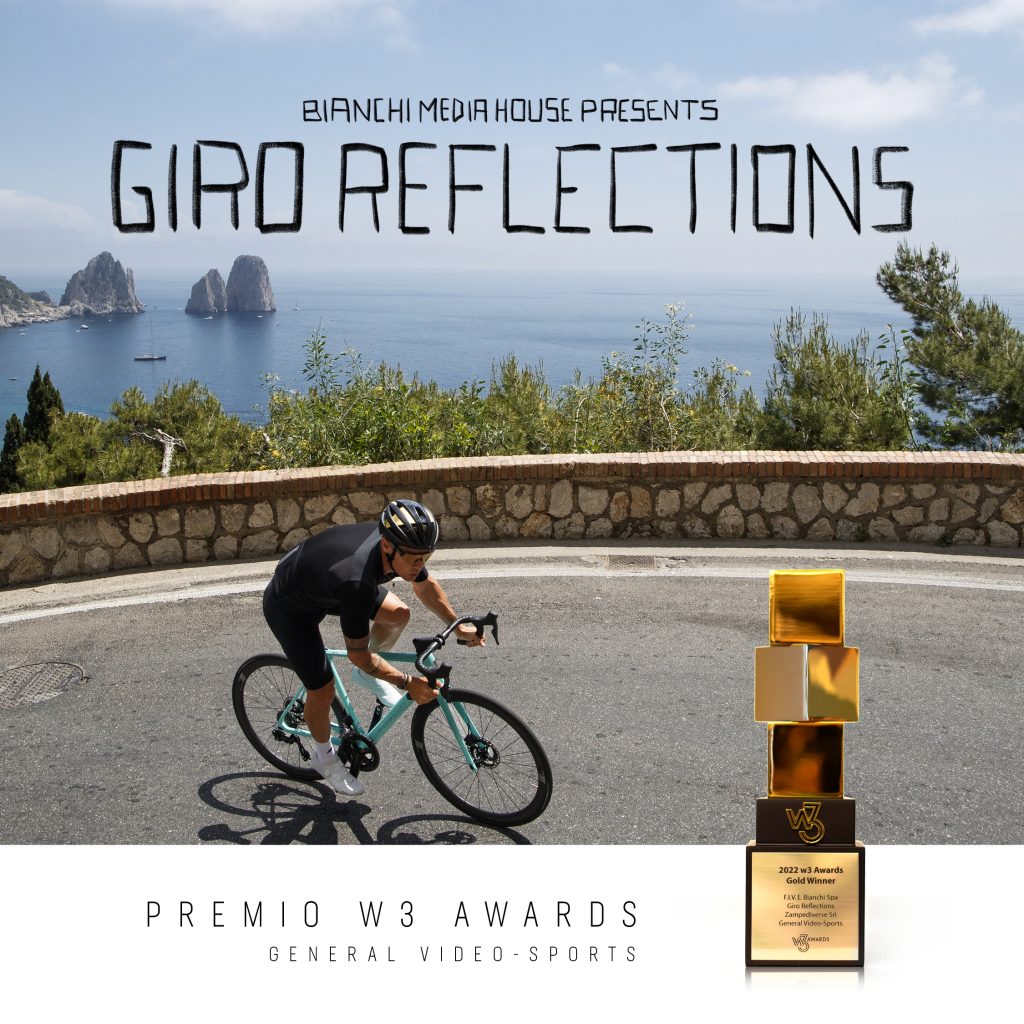 Creare ispirazione utilizzando la bicicletta: emozionare attraverso la scoperta di luoghi e persone e assaporare l'adrenalina della velocità, della competizione. Questa è stata l'idea alla base del progetto film Giro Reflections, lo short movie con cui Bianchi ha raccontato tre settimane di pura passione lungo le strade dell'evento professionistico Giro d'Italia.
L'originalità del progetto e la qualità della produzione video, interamente girata in 8K con camere RED V-Raptor, ha permesso a Bianchi di conquistare il primo premio da parte della giuria degli W3 Awards per la stagione 2022. Si tratta dei riconoscimenti assegnati dall'AIVA (Academy of Interactive & Visual Art) a chi si è contraddistinto durante l'anno per campagne di marketing, progettazione di siti web all'avanguardia, video e podcasts. Bianchi, insieme all'agenzia creativa Zampediverse, ha vinto il premio d'oro per Giro Reflections nella categoria General Video-Sports.
Sviluppato in quattro puntate, Giro Reflections ha accompagnato un narratore d'eccezione, l'ex professionista e ambassador Bianchi Nicolas Roche, sulle strade del Giro d'Italia. Roche è andato alla scoperta della cultura e delle bellezze attraversate dalla corsa, partendo dall'Ungheria e arrivando all'interno dell'arena di Verona attraverso, tra gli altri, gli incantevoli territori del Vesuvio, Capri, Genova e Camogli, le Dolomiti.
"Siamo orgogliosi di questo prestigioso riconoscimento che premia un grande team di lavoro ed un'idea innovativa di raccontare il brand, avvicinandolo sempre di più ad un pubblico internazionale e composto non solo da ciclisti, grazie alla creazione della Bianchi Media House", – ha commentato Claudio Masnata – Marketing and Communication Manager di Bianchi -. "Il nostro marchio ha l'eccezionalità di riuscire ad andare oltre il solo prodotto cycling ed ha tutte le caratteristiche per essere un lifestyle brand, motivo di ispirazione e di passione per milioni di persone".
Gli episodi di Giro Reflections sono disponibili on-demand sul canale YouTube di Bianchi.
I numeri di Giro Reflections:
3 telecamere RED V-Raptor
8k, con obiettivi cinema Leica e Canon
50+ ore di girato
8 Terabyte di dati
17 persone: marketing crew
3 telecamere
1 drone
3 veicoli
1 barca
zero cavalletti
2.000 km percorsi in 2 nazioni
5 guide turistiche
30 ristoranti
1 vulcano
Related News