Specialissima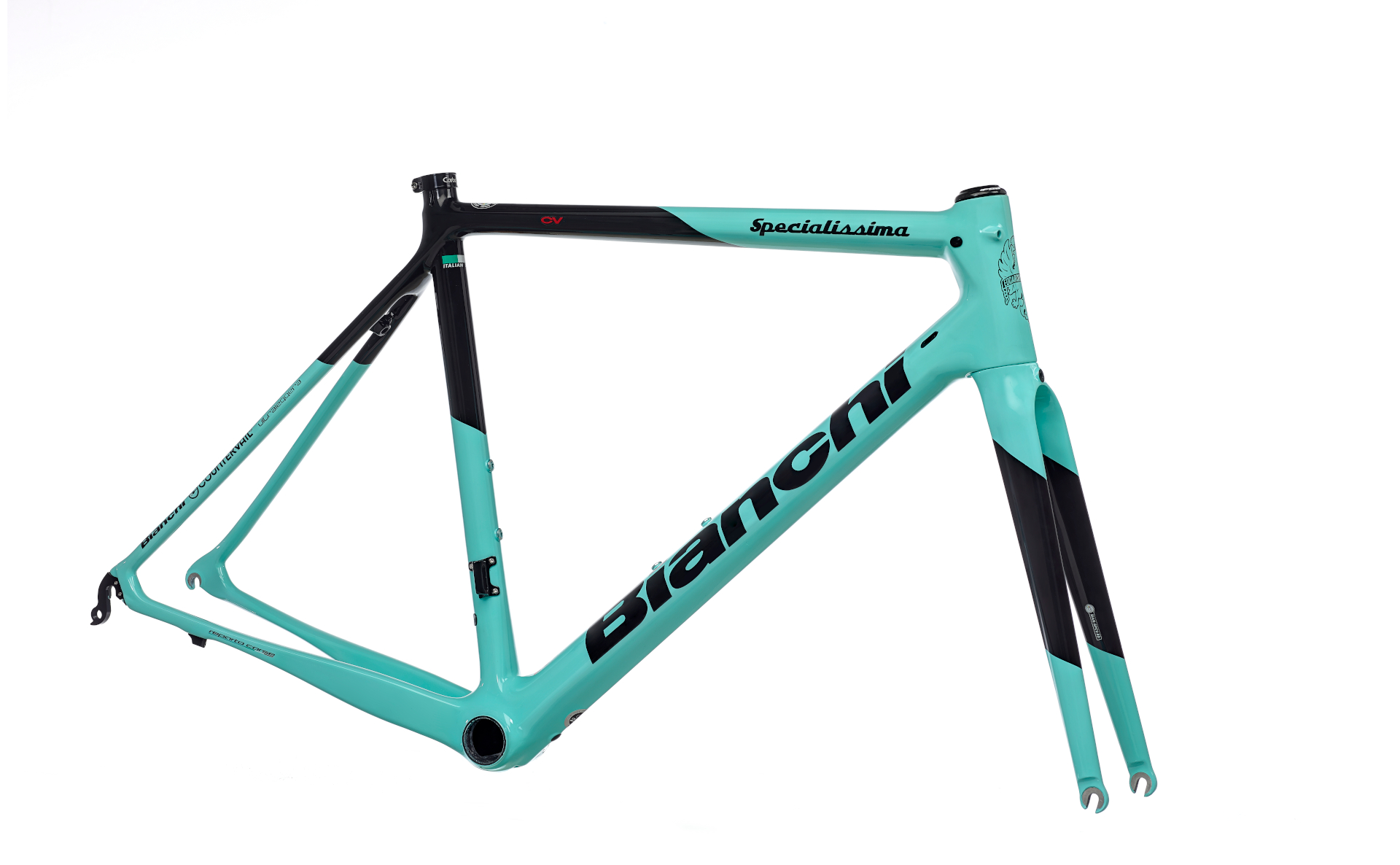 The image shown is indicative only.
Components and graphic details may differ from the actual model.
PEERLEES IN THE MOUNTAINS
---
A bike with spirit. A lightweight climbing machine with raw power at its core, built for peerless performance in the mountains. The Specialissima flies uphill and delivers incredible control in the descents. Fast, no matter how high you ride.
Features
Fork

Full carbon with Bianchi CV technology.

Head crown tube with integrated design for perfect head tube connection and straight blade.

Reactive geometry.

Aero headtube

Tapered headtube 1.1/8" to 1.4" to improve rigidity of the front part, and reduce the weight.
Aero headtube section inspired by Aquila CV's profiles.

Bianchi CV

Bianchi CV system cancels 80% of road vibration thanks to the use of a unique composite material integrated in Bianchi's high-performance carbon frames and forks. The Bianchi CV vibration cancelling system combines viscoelastic material together with a special carbon fiber architecture to dissipate vibration.

Advantages for the rider are more control, less muscle fatigue and more energy.

TESTED IN EVERY RACE SITUATIONS
Traditional passive damping in frames using superficial rubber inserts and isolators are marginally effective compared to the integrated vibration cancelling system developed by Bianchi for cycling and proven in the extreme conditions.

Make it special with Tavolozza

TAILOR-MADE PROGRAM
Bianchi Tavolozza is the exclusive web color configurator available for Bianchi CV models engineered with Countervail® vibration cancelling technology. All frames personalized with Tavolozza color configurator, including graphics and logos, are hand-painted and decaled in Italy by expert craftsmen, combining Bianchi's timeless skills of tailoring together with advanced technologies.
Bike tech specs
color

5K - CK16/Black glossy or Tavolozza
2J - Black glossy/Black matt or Tavolozza

sizes

470 500 530 550 570 590 610

frame

Specialissima super light carbon w/Countervail, 1.1/8">1.1/4" headset, seatpost 27,2mm, PressFit 86,5x41mm, sizes 47-50-53-55-57-59-61cm

fork

Bianchi Full Carbon w/Countervail, 1.1/8">1.4"

headset

Fsa NO.44/CF-R, 1.1/8">1.1/4"
Bike measurements