11 November 2021
T-Tronik Sport – Safety Warning
---
Dear cyclist,
a check recently carried out by our quality system indicated there were some possible faults in the rear braking system on some T-Tronik Sport.
Thus, please pay close attention to the following information so as to:
a. check whether your bicycle is part of the recall campaign Bianchi initiated
b. contact your Dealer if your bicycle is included in this campaign.
F.I.V. E. Bianchi considers the safety of cyclists to be of paramount importance.
With thank you for your understanding and we will do our utmost to return your bicycle to you as soon as possible.
If you have any questions, please contact your dealer.
Sincerely,
F.I.V. E. Bianchi S.p.A.
BICYCLE MODELS INCLUDED IN THE RECALL CAMPAIGN
The following models are included in the campaign:
T-Tronik Sport
if they are fitted with the following braking system:
Fig 1.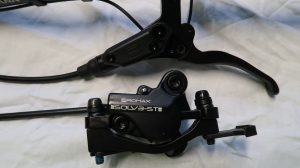 If your bicycle is not fitted with the braking system shown in the picture above (Fig. 1), this recall campaign does not apply to you.
WHAT YOU SHOULD DO IF YOUR BICYCLE IS INCLUDED IN THE RECALL CAMPAIGN
Discontinue use of the bicycle and contact your dealer to make an appointment so that the faults can be corrected free of charge, if any.