Ride like a pro. Ride at home
---
Team Jumbo-Visma training tips for your home training
How does a pro cyclist train at home? Learn from Mathieu Heijboer – Head of Performance at Team Jumbo-Visma, how to stay fit and healthy riding your bike at home.
BIKE SET-UP
First of all, for indoor training sessions it's important that the bike is correctly fixed to the trainer. When installing the bike on the indoor trainer it's important that it is fixed tightly so that the bike cannot move. Make sure the chain moves correctly over the chainrings and stand behind your bike to see if it's straight,.
TIME & EFFORT
It's important to consider the amount of time available for training, not only during the day, but throughout the week. Once you know how much time you can dedicate to home cycling, then you can plan easy training sessions as well as hard training sessions. If you have limited time, then it's more effective to prioritize intensive workout: this is quite hard so you need to allow yourself adequate recovery time.
Training is only effective if you allow yourself to recover before the next session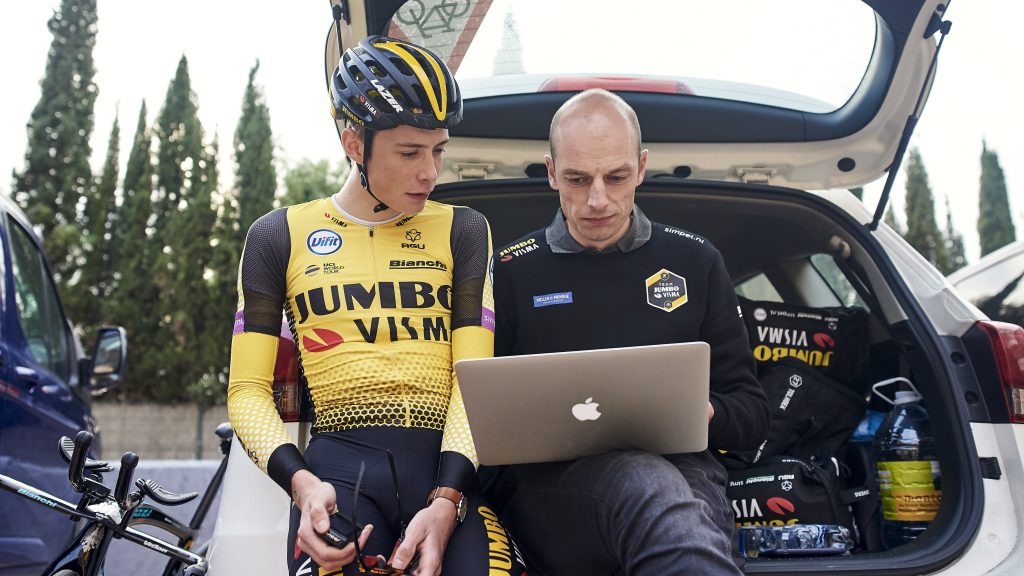 INDOOR vs OUTDOOR TRAINING
What are the main differences between indoor and outdoor training? When training indoor you lack the cooling effect of wind, the result is more sweating. If you lose a lot of sweat but don't replenish by drinking fluids, you risk dehydration. This can be dangerous but on the other hand drinking too much can also be dangerous. So, make sure you have enough water or energy drink on the bike and aim to drink to thirst.
Training indoor can also be very boring. Prepare challenging training session for yourself or ride together on online platforms and do virtual races.
WHAT PRO RIDERS DO NOW?
In a normal situation, pro riders often ride the rollers when the weather is bad or when they need to do specific interval training. Moreover, in races, the bike trainer is used to do warming up sessions before time trials or cooling down session after hard stages.

All over the world, pro riders cannot race now, and they have lowered their training volume. Our PRO cyclists ride less and try to maintain their fitness level but they don't train to be in top shape. Also, they are doing more alternative types of training (like running or core stability training) to maintain their fitness and stay motivated. It's very good for mental health to do different things from the ones we are used to do.
"In difficult time, when other things in life are more important, we train at home on our Bianchi and we look to remain fit to be ready to perform again, when the time comes"
 Robert Gesink – Team Jumbo Visma pro cyclist