Find your size
Enter any of these values
Designed for
Oltre RC is Bianchi's first hyperbike, an aero machine created for competition.
Tech specs
Frameset

Frame

Oltre RC carbon aero shape, electronic drivetrain only, headset 1.1/4""-1.1/4"",BB-PressFit 86,5x41mm, integrated seat clamp, for flat mount caliper, internal cable routing for  brakes, thru axle 12x142mm, compatible with 700x30 tire sizes 47-50-53-55-57-

Fork

Full Carbon aero,  brakes, integrated head 1.1/4", flat mount caliper, thru axle 12x100mm, compatible with 700x30 tire

Headset

Fsa No. 54 - MR137 - ACB 1-1/4"" diam.46.9 x diam.37x7 Fsa TH970R - MR082R - SL Alloy ACB 1-1/4"" diam.46.8 x diam.34x7

Cockpit (* Frame price does not include cockpit )

Stem

Integrated handlebar Integrated Aero bar, material  Carbon, drop 125mm, reach 80mm, Di2 compatible Ext: 90/400 ; 100/420 ; 110/420; 120/440

Handlebar

included in the stem
Based on component availability, Bianchi reserves the right to make changes on specifications without notice.
Geometry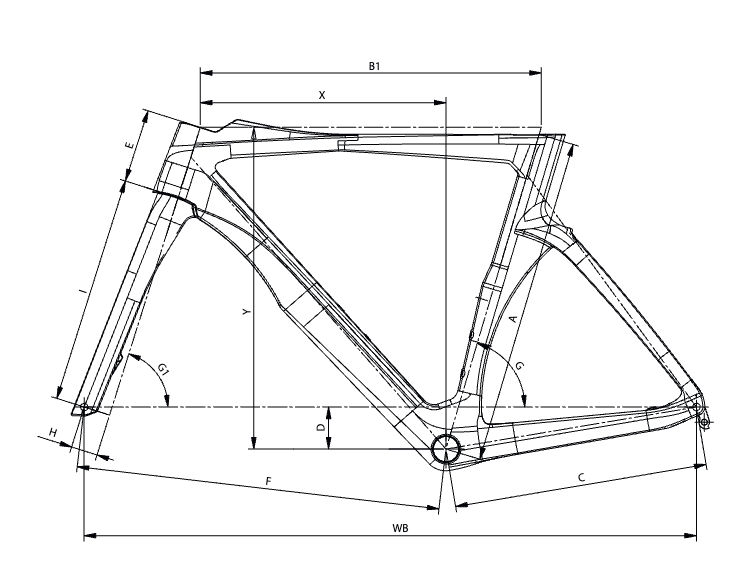 | SIZE | A | B1 | C | D | E | F | G | G1 | H | I | X | Y | WB |
| --- | --- | --- | --- | --- | --- | --- | --- | --- | --- | --- | --- | --- | --- |
| 470 | 450 | 515 | 410 | 58 | 83 | 579 | 74.5° | 70.5° | 43 | 368 | 385 | 470 | 982 |
| 500 | 480 | 525 | 410 | 58 | 88 | 581 | 74.5° | 71.5° | 43 | 368 | 392 | 478 | 983 |
| 530 | 510 | 536 | 410 | 68 | 103 | 582 | 74° | 72° | 43 | 368 | 393 | 504 | 984 |
| 550 | 530 | 550 | 410 | 68 | 118 | 588 | 73.5° | 72.5° | 43 | 368 | 397 | 520 | 988 |
| 570 | 550 | 560 | 412 | 68 | 133 | 593 | 73.5° | 73° | 43 | 368 | 402 | 536 | 996 |
| 590 | 570 | 575 | 412 | 68 | 153 | 603 | 73° | 73° | 43 | 368 | 406 | 555 | 1005 |