Bianchi returns to the WorldTour with Team Arkéa-Samsic
---
The French team will count on Bianchi's technology and revitalized Reparto Corse collection, headlined by the new Oltre RC. The partnership will also include a Pro Continental women's and Development Team line-up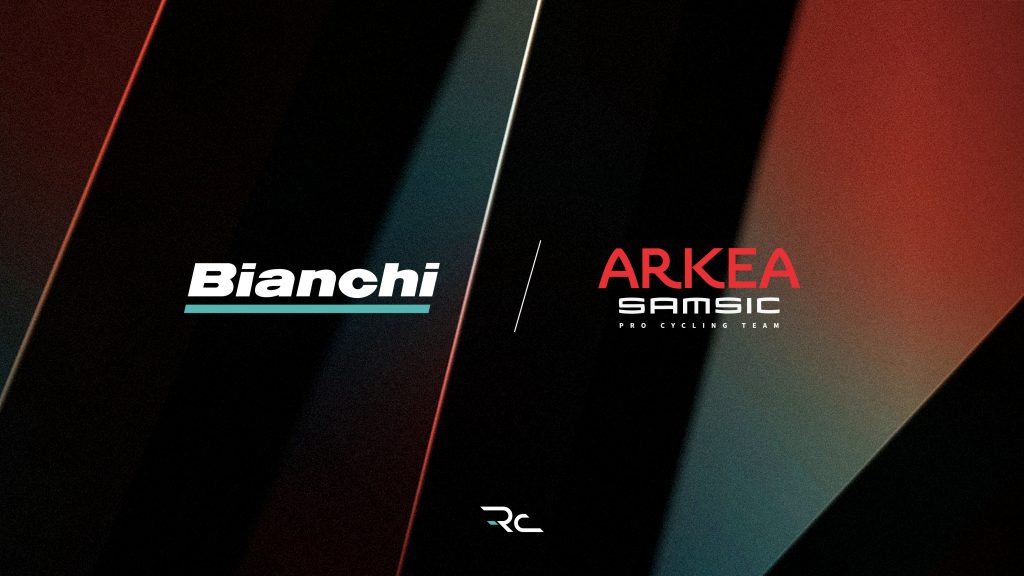 Bianchi has signed a multi-year sponsorship agreement with Team Arkéa-Samsic, thus confirming the return of Bianchi Reparto Corse to the prestigious international UCI WorldTour calendar.
Bianchi's new sports collaboration is with Arkéa-Samsic, a French-based international team that has gained a solid position in the World Tour category going into 2023 thanks to excellent results achieved in past seasons. This is an exciting comeback for Bianchi, which heralds its return with an ambitious and growing team directly supported by the Italian brand's Reparto Corse division that's dedicated to producing high-performance bicycles for use in professional racing.
"In recent years, Team Arkéa-Samsic has demonstrated growth by achieving its planned goals. The solid organisation and the international approach are two factors that we consider decisive, and in the coming years we want to contribute to efforts for achieving new targets and to be well represented in the World Tour", said Bianchi CEO, Fabrizio Scalzotto.
The partnership with Team Arkéa-Samsic is also strategically important for Bianchi to consolidate its position in the key French market. By leveraging the strength of an actively engaged fanbase, the Team will work closely with Bianchi to get closer to the audience of users and fans through communication and co-marketing initiatives.
OLTRE RC'S DEBUT IN THE WORLDTOUR
The 2023 season will kick off at the summit of international cycling with the new Oltre RC, the recently launched Hyperbike that has revolutionised the world of aero racing bikes.
Bianchi's equipment dedicated to Team Arkéa-Samsic includes the Specialissima, the light and reactive all-rounder that's perfect for stage racing and climbing. For time trials, the multi-winning Aquila will be the Arkéa-Samsic athletes' ally, while Zolder Pro will return to the international stage of world cup cyclocross.
BARGUIL, BOUHANNI AND THE WOMEN'S TEAM
Bianchi's long-standing commitment to Team Arkéa-Samsic includes a path to steady growth. The captain of the WorldTour squad is the experienced Warren Barguil, winner of two stages in the Tour de France. The team will count on Nacer Bouhanni for sprint finishes. There are also many young riders in the wings, such as Clément Champoussin, Kévin Vauquelin, Hugo Hofstetter, Matîs Louvel and David Dekker.
"I am glad to associate the Arkéa-Samsic team with such a famous brand of bicycles as Bianchi, which is known and recognised by all passionate people for its heritage and innovation. Bianchi has written the history of our sport in gold letters with famous riders – I had the chance to race in the professional ranks on bikes from this Italian brand which was, and still is, one of the crown jewels of the cycling industry.
By partnering with the Arkéa-Samsic team, Bianchi is making its big return to the level of UCI WorldTour racing. Bianchi also wants to develop and enhance its high-performance products with us, such as its new Oltre RC, by working in close collaboration with our technical staff and pro riders", Team Arkéa-Samsic General Manager Emmanuel Hubert said.
As part of Team Arkéa-Samsic, Bianchi will also support the Development and women's teams, featuring Amandine Fouquenet, the talented and promising French U23 road champion.
Bianchi racing equipment:
Shimano Durace Di2 disc and road wheelset
Vision TT wheelset
Reparto Corse by Vision/FSA cockpit (for Specialissima and Aquila)
Continental tires
Selle Italia saddles
Elite bottles/cages
Wahoo computers
Related News