20 December 2019
Team Jumbo-Visma 2020 roster presented in Amsterdam
---
Tom Dumoulin joined fellow leaders Roglic, Kruijswijk, Van Aert and Groenewegen at the Bianchi-sponsored WorldTour team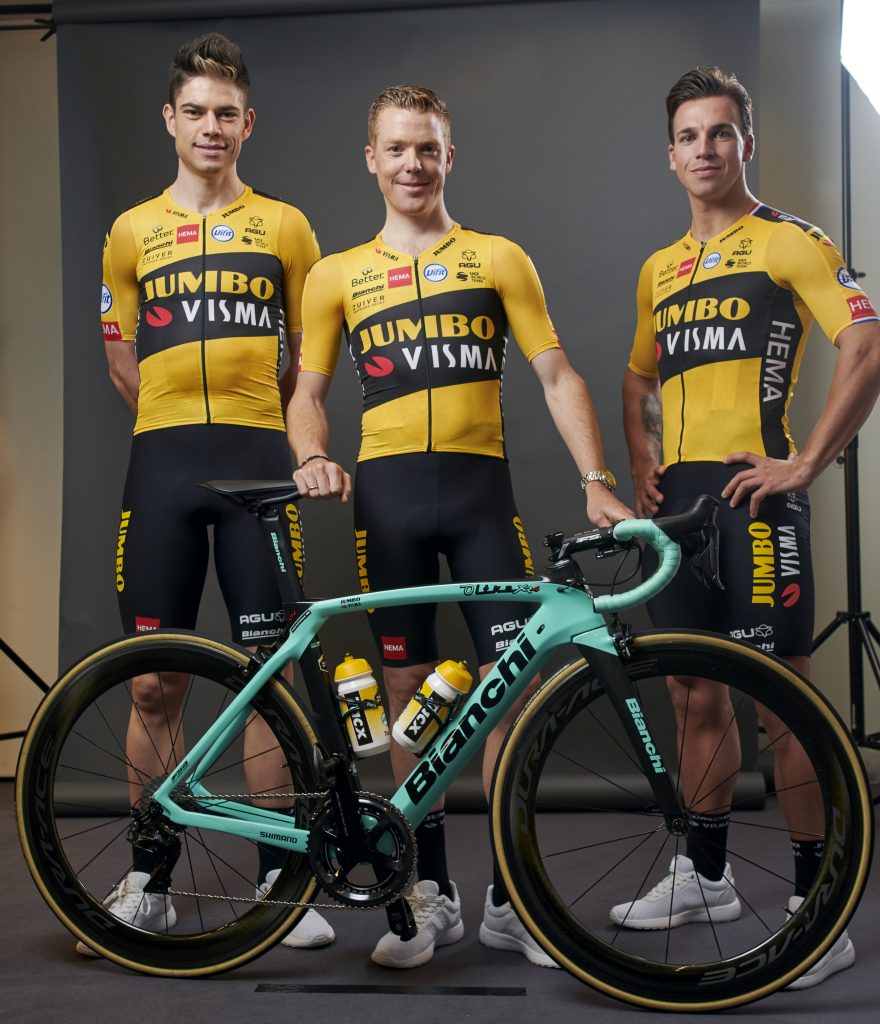 The 2020 Team Jumbo-Visma was officially presented at HEMA headquarters in Amsterdam (Netherlands) on Friday, December 20th. After fifty-two victories in 2019, highlighted by la Vuelta won by UCI Ranking's #1 Primoz Roglic, the Bianchi-sponsored WorldTour team enters 2020 with even greater confidence.
The Slovenian himself will look forward to improve the 2019 memorable campaign, in which he also netted the overall third place at the Giro d'Italia. Joining him and Tour de France's third-place finisher Steven Kruijswijk as main GC riders will be fellow Dutchman Tom Dumoulin, winner of the Giro d'Italia in 2017. The 29-year-old Dutch cyclist is one of four newcomers in the team, along with Christoph Pfingsten, Chris Harper and neo-pro Tobias Foss.
After the huge success of the past season, the strong squad for the sprints and one-day races is due to be back in full, highlighted by Dylan Groenewegen, Wout Van Aert and Mike Teunissen – all of them stage winners at the 2019 Tour de France.
AIMING TO PARIS 
Team Jumbo-Visma will head to next Tour de France with a very strong line-up including Primoz Roglic, Tom Dumoulin and Steven Kruijswijk. George Bennett will be captain for the next Giro d'Italia whilst Steven Kruijwuijk will lead the team at Vuelta a Espana. Dylan Groenewegen will focus on Giro d'Italia, Vuelta a Espana, Milano-Sanremo and Brugge-De Panne. Wout Van Aert, Mike Teunissen and Amund Jansen will take load of the team's ambitions in the Flemish spring while Team Jumbo-Visma Roglic and Dumoulin will lead the charge for the Ardennes classics.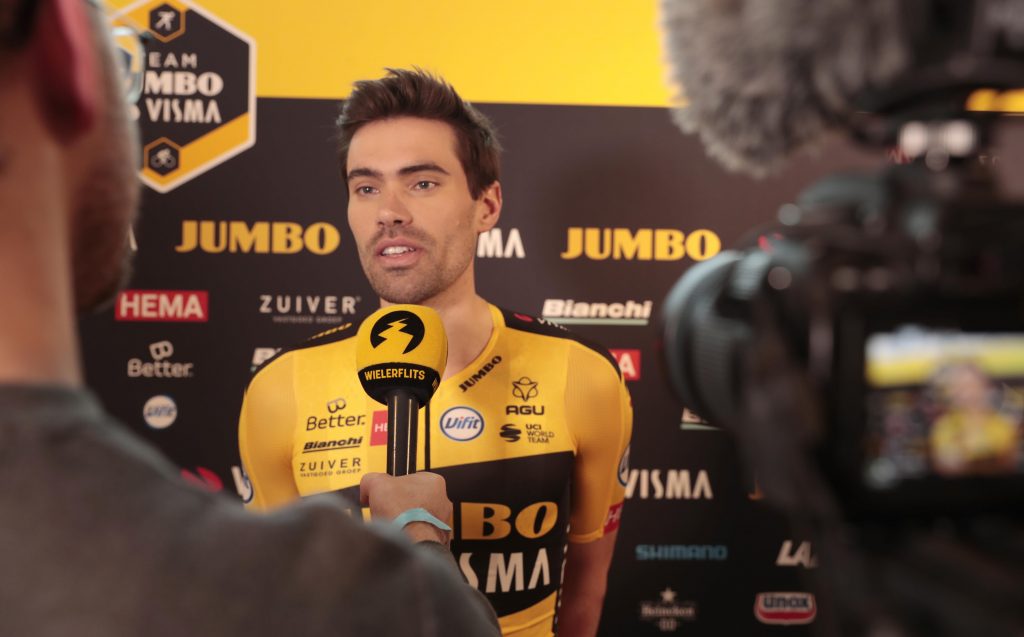 QUOTES
Tom Dumoulin: "The goal is definitely to win the Tour de France. Full on, with three leaders! It was very nice to find out that all three of us are on the same page"
Steven Kruijswijk: "We want to win the Tour de France as a team. You do that with the strongest rider possible. Look at who we can line up, with Tom, Primoz and myself as leaders. I think we can fight with these guys"
Primoz Roglic: "Our goal is to win the Tour de France. I want to be part of that. I definitely want to be in that team".
Dylan Groenewegen: "There are a lot of chances in the opening stages of the Giro d'Italia. We pretty quickly realised that I should ride the Giro d'Italia and the Vuelta a Espana, starting in Netherlands. I want to win in all the grand tours. It will be a very nice year to do that".
2020 ROSTER
Team Jumbo Visma's 2020 roster includes 27 riders: George Bennett, Koen Bouwman, Laurens De Plus, Tom Dumoulin, Pascal Eenkhoorn, Tobias Foss, Robert Gesink, Dylan Groenewegen, Chris Harper, Lennard Hofstede, Amund Grondhal Jansen, Steven Kruijswijk, Sepp Kuss, Tom Leezer, Bert-Jan Lindeman, Paul Martens, Tony Martin, Cristoph Pfingsten, Primoz Roglic, Timo Roosen, Mike Teunissen, Antwan Tolhoeck, Wout Van Aert, Taco Van Der Hoorn, Jos Van Emden, Joans Vingegaard, Maarten Wynants.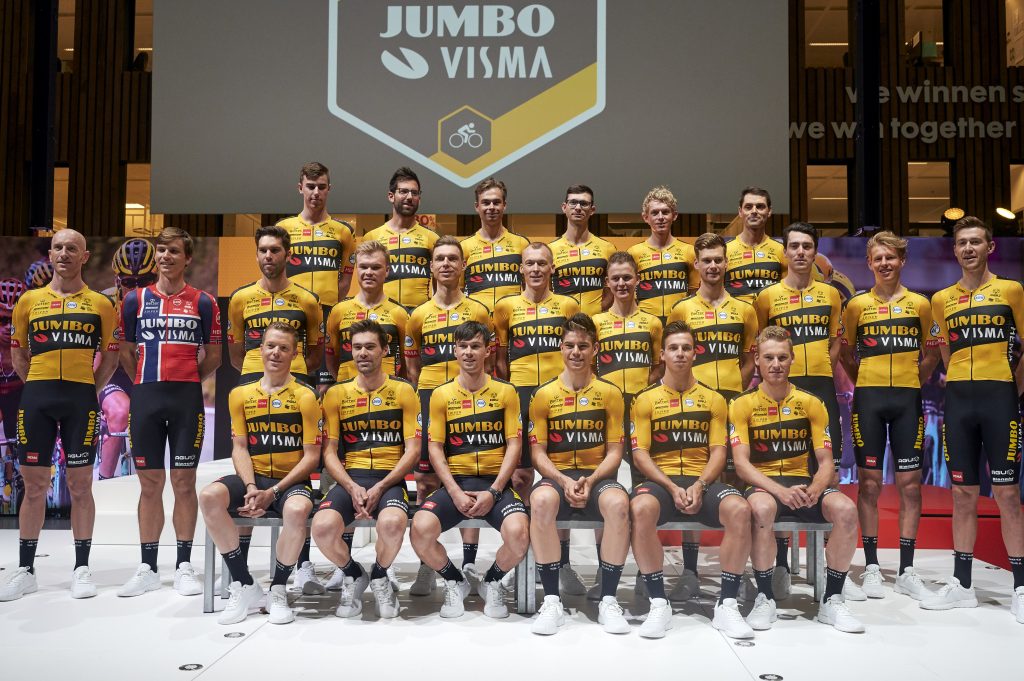 TEAM JUMBO-VISMA'S BIANCHI CV MODELS
Bianchi supplies the Team Jumbo-Visma with four models engineered with the Bianchi CV system powered by Countervail:
Oltre XR4, designed to maximize the aerodynamic advantage and control. Oltre XR4 is the Bianchi's ultimate aero road racing machine, engineered with the Bianchi CV system powered by Countervail. The graphics were renewed for the new season. Team Jumbo-Visma also uses Oltre XR4 Disc version.
Aquila CV, the ultimate time trial machine, designed to increase power output and rider's energy, with maximum control with each pedal stroke.
Infinito CV, the ideal bike for the Classics, providing remarkable control on uneven surfaces and reducing muscular fatigue. It is engineered with the revolutionary Bianchi CV system, using patented Countervail carbon material, to cancel road vibrations.
Zolder Pro Disc, latest evolution of the carbon platform designed by Bianchi for cyclocross, combining lightweight frame and resistance to obtain the best performance.
[slider_news]
Related News